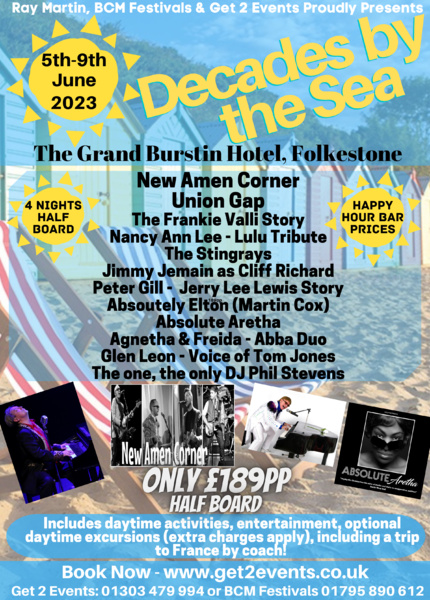 Grand Burstin Hotel
Mon 5th Jun 2023 - Fri 9th Jun 2023
Featuring...
Decades By The Sea
5th-9th June 2023
@ The Grand Bustin Hotel, Folkestone
Starring -
-New Amen Corner
-Union Gap
-The Frankie Valli Story
-Nancy Ann Lee- Lulu Tribute
-The Stingrays
-Jimmy Jemain as Cliff Richard
-Peter Gill- Jerry Lee Lewis Story
-Absoutely Elton ( Martin Cox)
-Absolute Aretha
-Agneth & Freida - Abba Duo
-Glen Leon- The Voice of Tom Jones
-The One, The Only Dj Phil Stevens
Only £189.00!! which includes the daytime activites entertainment optional daytime excursions ( Extra Charge apply ) Including a trip to France by Coach!!!
To Book please call GET2EVENTS On 01303 479 994 Or Ray Martin on 01795 890612
Previous Page
Top